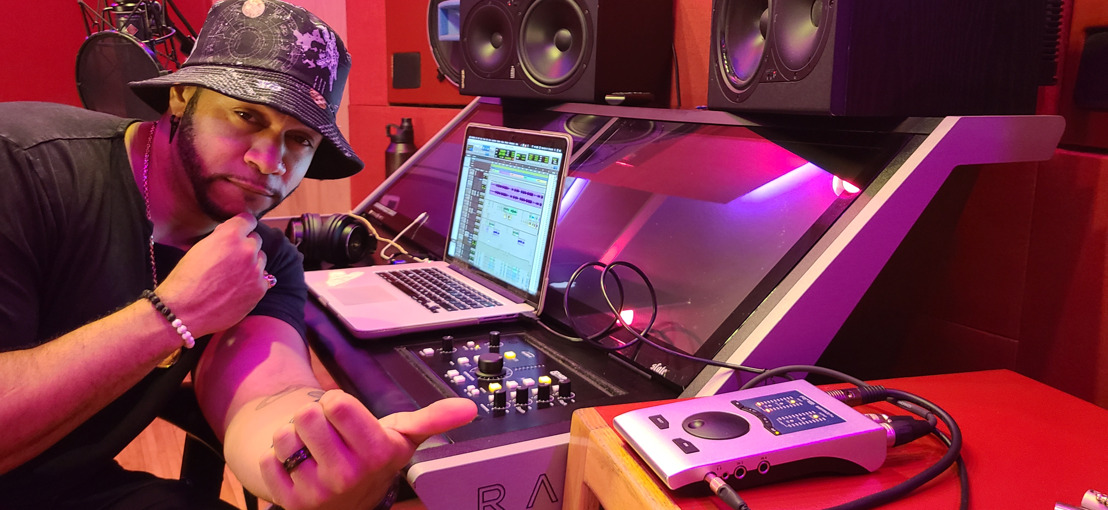 Rapper & Producer Alexander Star Uses His Recording Skills & RME's Babyface Pro Interface to Bring Musical Therapy to Troubled Youth
Star travels to juvenile detention centers and trauma treatment centers across Miami recording teen's musical creations — offering them a creative outlet to work through trauma
MIAMI, March 23, 2021— Producer and impact artist Alexander Star has musical credits ranging from a Super Bowl LIV campaign for the NFL to a #1 rated French TV series to his recently released self-recorded album "Five Star General." But he's possibly most proud of his work with The Motivational Edge — a non-profit that empowers youth through the arts. Through Motivational Edge's Lyrical Expression program, Star travels across the greater Miami area, working with teens who have experienced abuse or are spending time in juvenile detention centers and helps them express themselves through music. Thanks to the portability of his Babyface Pro USB audio interface, he is able to record the youth's musical creations on the spot, providing them with a project they can be proud to share with family and friends.
"I've worked with kids who've completely shut adults out due to what they've been through; and using music, a transparent and relatable language, I've gotten them to open up," Star said. "I've recorded somewhere around 350–400 kids and helped them to not only tap into their creative side, but also unpack heavy baggage they've had on their minds but didn't quite know how to express. The Babyface Pro is a great companion for this kind of work because it fits right into my bag, and with a little mixing expertise on my end, I'm able to give these kids vocal recordings so crisp you'd think we made them in a $1 million studio. And hearing themselves back for the first time ever — on a radio-quality recording like the artists they look up to — immediately enhances the way these teens see themselves. It's a huge boost of much-needed self-confidence."
Consistent Audio Quality
Aside from his work with Motivational Edge, Star is an artist and producer and has been involved in many major projects, including a Super Bowl LIV campaign with the NFL featuring players rapping lyrics from his song "This Is My Era" to promote eco-friendly habits and coral reef awareness.
While working on the campaign, Star recorded the players' vocals outside on location in Ocean Cay MSC Marine Reserve in the Bahamas. Star said he anticipated running to audio issues while recording vocals outdoors, but thanks to the Babyface Pro, he had none.
"Recording outside by the cabana, there was naturally some external noise around us but with the Babyface Pro and a little EQ on the vocals, the song still came out super clean," Star said, adding that the YouTube video of the campaign has now reached upwards of 9.1 million views.
When recording his new album, Five Star General, released late last year, the Babyface Pro played a key role in his home studio setup. Star has become so confident in the quality of his Babyface Pro that he also brings it along while working on projects at other studios across Miami, tracking his own vocals within the control room instead of the booth.
"After switching from a different interface to the Babyface Pro, the No. 1 biggest factor I noticed immediately was how clean the vocals became with the Babyface," he said. "There was such a difference in the audio quality. Once I got the Babyface, I was like, 'Baby, where have you been?' As a vocalist and harmonizer, a singer and a rapper, whether I'm singing loud or quietly, the vocal quality is always consistent. I used to sweat which microphone I would use, but that's much less of a concern now because I know the sound quality I'm going to get from the Babyface is pristine."
The USB interface's plug-and-play capability is another key benefit for Star when it comes to recording on location. "I set the Babyface Pro up when I first got it, and I honestly haven't had to update anything or change any settings. It does the job I need it to do quite faithfully."
Where other interfaces have presented latency issues, Star's Babyface Pro has eliminated those along with audio feedback.
"I've had issues with static and hum while working with other interfaces in the past, but the Babyface is just clean and quiet," he explained. "I love it because it runs so quiet."
As Star eyes upcoming projects in 2021, he said he is set to go with his Babyface by his side.
"Outside of this interface, the only hardware I need is my laptop and a mic," Star said. "This makes studio-quality recording on-the-go a seamless experience."
For more on Alexander Star, visit: alexanderstar.com.
For more on RME, visit: rme-usa.com.
About Synthax, Incorporated
Synthax Inc. is the exclusive USA distributor for RME digital audio solutions, Digigram broadcast audio systems, Appsys digital audio tools, Ferrofish advanced audio applications, myMix personal monitoring systems and ALVA cableware. We supply a nationwide network of dealers with these products for professional audio, broadcast, music industry, commercial audio, theater, military and government applications. For additional information, visit the company online at http://www.synthax.com.

Katie Kailus Public Relations, Hummingbird Media, Inc.

Jeff Touzeau Public Relations, Hummingbird Media