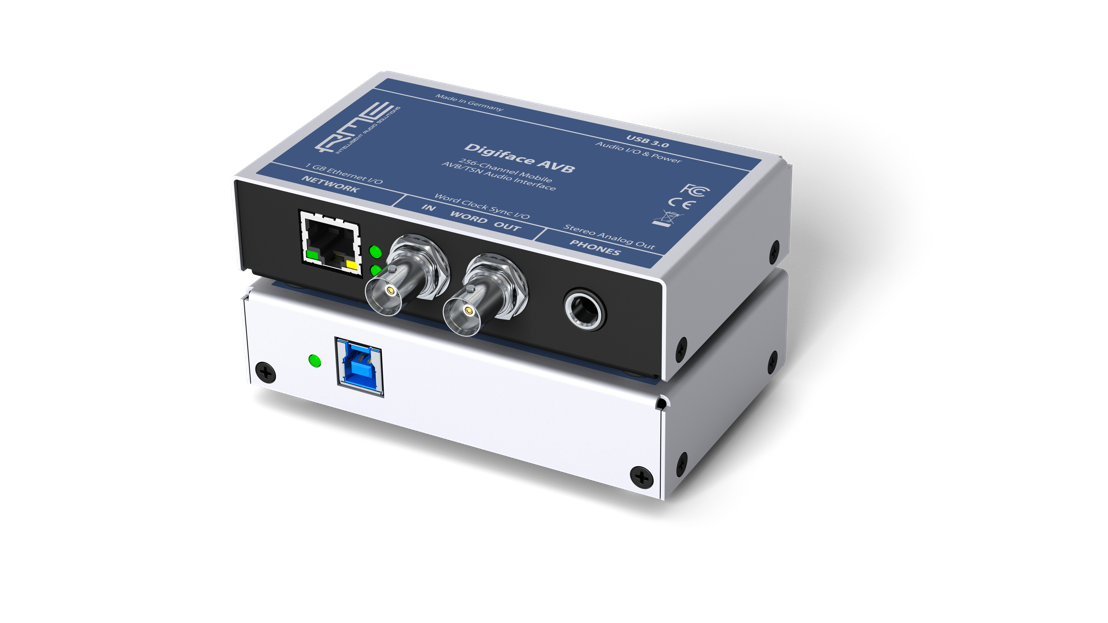 Expand Your Connectivity Possibilities: Synthax Adds RME Digiface Dante, Digiface AVB and Ferrofish PULSE 16 DX at the 2018 NAB Show
New Dante and AVB versions of the Digiface series of mobile audio interfaces and a Dante version of the Ferrofish PULSE 16 line aim to enhance broadcasters' connectivity
Friday, April 6, 2018 — Las Vegas, April 9, 2018 – Synthax [NAB 2018 booth C7506], distributor of premium German interface manufacturer RME, German audio converter builder Ferrofish and personal monitoring and mixing system myMix, will highlight new solutions that open up a world of connectivity options for broadcasters during the NAB Show Las Vegas from April 9–12, 2018, at the Las Vegas Convention Center.
At NAB, RME will debut the new Digiface Dante and Digiface AVB mobile audio interfaces — expanding the Digiface series to meet the growing need of users looking to distribute audio over a local area network.
"We at RME are aiming to connect broadcasters to the next generation of audio distribution standards," said Derek Badala, Director of Sales, Americas for Synthax, distributor of RME. "For years, RME has been chosen by broadcast professionals for MADI and the reliability and stability of audio format support — transferring MADI to AES, MADI to ADAT, and so on. Now we look forward to showing the broadcast industry where RME is going in the new age of audio over IP."
The Future of Audio Networks
The Digiface Dante is a 256-channel, 192 kHz USB audio interface that combines a lightweight design with Dante network connectivity and supports AES67. The BNC connections provide Word Clock I/O and can be switched to work with MADI, allowing for MADI and Dante to be used together, and the unit to work as a simple bidirectional format converter in standalone mode.
The Digiface Dante uses RME's well-known USB driver for Windows and macOS with the lowest latency and industry-leading stability and is equipped with RME's powerful, digital real-time mixer TotalMix FX software. The new Digiface Dante provides the user with the benefit of RME's driver technology at zero-latency monitoring, low-latency performance in and out of the Dante networking during recording or playback.
Leading the Way in AVB
With the release of the Digiface AVB, RME has met the growing need in the AV industry to distribute audio over a local area network. The Digiface AVB USB audio interface uses AVB to transfer up to 256 channels of audio between PC and audio networks. Equipped with USB 3, the interface provides users with the ability to stream up to 128 channels of audio with sampling rates up to 192 kHz into the AVB network and another 128 channels back.
Ferrofish PULSE 16 DX
Leading German converter manufacturer Ferrofish will also roll out a Dante-compatible version of its popular PULSE 16 line of converters during the 2018 NAB Show. The new PULSE 16 DX is a 16-channel, AD/DA converter with Dante compatibility.
"The PULSE 16 DX is an on and off ramp to Dante networks via analog," Badala said. "Users can expect the same pristine sound quality that has made the PULSE 16 line of converters popular amongst discerning audio professionals with the now added benefit of Dante connectivity."
Check out the new Digiface Dante, Digiface AVB and the Ferrofish PULSE 16 DX at RME's booth C7506 during the 2018 NAB Show Las Vegas April 9–12.
For more information on RME, visit http://www.rme-usa.com/
For more information on Ferrofish, visit https://ferrofish.com/en/
About Synthax, Incorporated
Synthax Inc. is the exclusive USA distributor for RME digital audio solutions, Ferrofish advanced audio applications, myMix audio products, and ALVA cableware. We supply a nationwide network of dealers with these products for professional audio, broadcast, music industry, commercial audio, theater, military and government applications. For additional information, visit the company online at http://www.synthax.com.
Media Contacts:
Katie Kailus
Public Relations
Hummingbird Media
+1 (630) 319-5226
katie@hummingbirdmedia.com
Jeff Touzeau
Public Relations
Hummingbird Media
+1 (914) 602 2913
jeff@hummingbirdmedia.com
Katie Kailus Public Relations, Hummingbird Media, Inc.