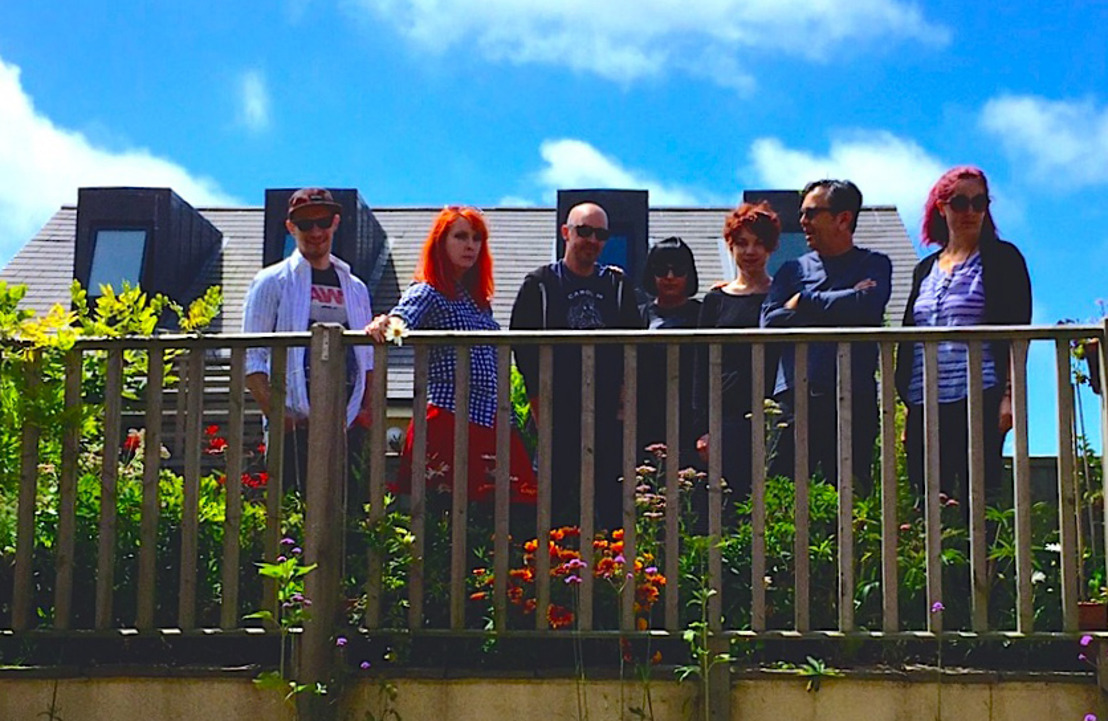 Dream Pop Songsmiths The Luxembourg Signal Turn to RME's Babyface Pro Interface on 'Blue Field'
Super Compact, High-Quality Bus Powered Multi-Channel Interface Captures the Band's Vast Soundscapes with Remarkable Fidelity
Wednesday, April 18, 2018 — Fort Lauderdale, FL – April 23, 2018 – When The Luxembourg Signal set out to begin work on their new record Blue Field, they knew they would be taking their rich electronic-inflected dream-pop soundscapes in new directions. But to corral their expansive seven-member lineup, spread across either side of the Atlantic Ocean, the band needed a portable recording solution that would let the process emerge organically. They turned to the RME Babyface Pro interface, which captured every twist and turn of Blue Field with unparalleled precision as the band deftly weaved together a tapestry of lush vocals, driving rhythms, shimmering keys, and sparkling guitars.
Change was part of the DNA of Blue Field, according to drummer Brian Espinosa. "Like most bands, we wanted to try something different from what we did on the first record," he says. Working with producer Mark Rains, they captured pounding drums and bass guitar at Station House Studios in Los Angeles, but afterward decamped to their respective workspaces to flesh out the tracks.
"The fact that our locations are rather far apart, from San Diego to Los Angeles to London, would have been much more difficult to manage 10-15 years ago," Espinosa concedes. "While it would be nice and convenient for all of us to live in the same city, the fact is that recording technology like the Babyface Pro makes the physical distance between us is less of an obstacle."
A Strong First Impression
"I first recall running into RME back in the early 2000s," says Espinosa. "My band at the time was sharing a practice space with another band that was way more advanced in terms of their self-recording capabilities. They were using an early RME PCI-Express interface, and I was just blown away by the quality of their recordings."
That experience stuck with Espinosa, and when he was later on the hunt for his own interface, he immediately gravitated towards RME. "Another friend mentioned the RME Babyface Pro to me, and it just clicked," he says. "I borrowed his Babyface, downloaded the drivers, and immediately knew my search was over."
Studio To-Go
The first thing that caught his attention was the natural-sounding conversion that maintained the full integrity of any audio he passed through the Babyface Pro. "The RME converters were as clean and transparent as I remembered them being in early 2000s and then some." This was important to ensure the band's home studio tracking would match the clarity of the drum and bass work they had done during their LA sessions.
While Espinosa expected pristine conversion from RME, he was impressed in particular by the two high-quality preamps built into the Babyface Pro. "I was blown away by how great the mic pres on the Babyface Pro sounded," he says. The built-in preamps were used throughout the recording of Blue Field, with a separate outboard preamp tapped only for lead vocals. "We have friends that had a variety of microphones to borrow, which allowed us to try different mics for different vocals and guitar cabs, and they all sounded great through the Babyface Pro," Espinosa says.
Though Espinosa did not need the Babyface Pro's full complement of 12 inputs and outputs for the Blue Field sessions, he did make use its line inputs for recording keyboards, which were enhanced by a bevy of stompbox effects for a mix-ready sound right off of the hard disk. Espinosa utilized the Babyface Pro's dual headphone outputs to listen in during tracking, as well as its line outputs to feed his monitor system.
Empowered Simplicity
With recording happening in his home and on the go, Espinosa appreciated the fact that the bus-powered Babyface Pro gave him one fewer item to worry about wending about his desk: a power cable. "The fact that it's bus powered makes it so easy to set up and go," he says. "I can't tell you how much eliminating even one cable helps when you have wire and cable running every which way in a home studio. It's just one less thing we have to worry about during a session. And the fact that the mic pres sound so great on a bus-powered interface really amazes me. How the hell did RME do that?"
A Valuable Role-Player
Espinosa found working with RME's TotalMix FX software seamless and unobtrusive to the creative process. "The great thing about TotalMix FX is that I didn't really have to think about it at all, and that's the highest compliment you can pay any software mixer," Espinosa says. "It's just very intuitive and flexible."
The large rotary wheel on the Babyface Pro provided a versatile and tactile solution for Espinosa during both tracking and mixing, making the home recording experience more like working in a big studio. "It's so simple to assign the volume wheel from controlling input gain on any of the inputs to main output and headphone volume," he says, "and having volume and dim options right at our fingertips helped all of our sessions run quickly and smoothly." The easy-to-read LED indicators on the Babyface Pro's front panel also helped him insure his inputs and outputs were safely out of clipping territory at all times.
Begin Again
Even with Blue Field released and garnering rave reviews, The Luxembourg Signal has no intention of taking things easy. "We are hard at work recording our next release for Shelflife Records," Espinosa says. "We should have an EP or mini-LP ready to go by fall 2018, and you better believe that our Babyface Pro will be used to track many more songs for the Luxembourg Signal's future releases. There's just no going back to any other audio interface."
For more on RME, visit rme-usa.com
About Synthax, Incorporated
Synthax Inc. is the exclusive USA distributor for RME digital audio solutions, Ferrofish advanced audio applications, myMix audio products, and ALVA cableware. We supply a nationwide network of dealers with these products for professional audio, broadcast, music industry, commercial audio, theater, military and government applications. For additional information, visit the company online at http://www.synthax.com.

Media Contacts:
Katie Kailus
Public Relations
Hummingbird Media
+1 (630) 319-5226
katie@hummingbirdmedia.com
Jeff Touzeau
Public Relations
Hummingbird Media
+1 (914) 602 2913
jeff@hummingbirdmedia.com
Katie Kailus Public Relations, Hummingbird Media, Inc.